A Fine Reflection
Your Northwest Roof, Gutter & Window Cleaning Company
~ "Isn't it time to see the world through clean windows?" ~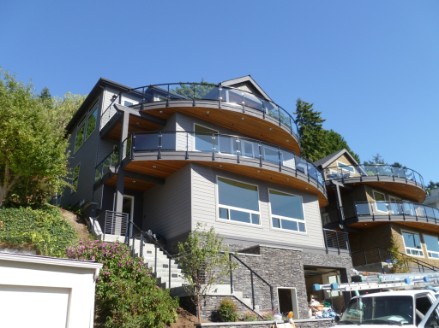 We Service The Following Areas:
Renton
Seattle
Bellevue
Mercer Island
Kirkland
Redmond
Issaquah
Sammamish
Shoreline
Burien
Des Moines
Normandy Park
Tukwila
Cascade-Fairwood
Kent
Isn't it time to see the world through clean windows? Keeping your windows clean not only looks great but it helps protect your financial investment in them. Cleaning your windows and skylights regularly will protect them from environmental issues that damage the surface of glass and reduce the clarity and functionality of your windows.
Moss and algae are everywhere they aren't supposed to be. Slippery sidewalks, driveways and decks pose a greater risk of injury to you and your guests. Now is the perfect time to add a layer of home safety by using our affordable pressure washing services. Driveway cleaning, house/siding cleaning, deck, sidewalk and fence cleaning are all services that we provide.

Summer has arrived! Now is a perfect time to have your rain gutters professionally cleaned. Keeping your gutters free of debris can save you hundreds on roof and home repairs. Our locally owned gutter cleaning service will leave your gutters clean and downspouts clear and better able to move stagnant water away from your home. We use safe methods to clean your gutters, and we clean up the mess.

Moss is beautiful in the forest. However, roof moss can void your warranty and significantly lower its functional lifespan. Often lending institutions and insurance companies require roofs to be moss-free before issuing home loans or renewing insurance due to the destructive nature of roof moss. Our affordable moss treatment and roof cleaning service is effective and guaranteed in killing moss, eliminating the black streaks and stains caused by roof algae as well as providing a deterrent to new moss growth.
If you have a mild to moderate roof moss problem or just want to provide a deterrent for moss growth, let us safely deal with the problem for you. We will apply a generous amount of a high quality zinc sulfate formulation to your roofs entirety to ensure that the moss will die. Please note that a moss treatment is not the same thing as roof cleaning.
We are currently scheduling for March and beyond for all of our services.
If you'd like to be on a cancellation list please let us know.
Online estimates are free*. Please email or call us at (206)355-2349
We accept cash, checks, or credit cards using Square.
Payment is due upon completion of any and all services performed.
*Most of our work is bid using available online tools, Google Maps, Bing and realtor sites like Redfin, or Zillow. There are occasions where any potential view is obscured by trees, or just not available with enough detail using online methods. In those cases, visiting the site in person may be necessary in order to offer an accurate price for the requested work.
Renton Window Cleaning Service, Seattle Pressure Washing Service, Seattle Gutter Cleaning Service, Renton Roof Cleaning, Seattle Window Washing Service, Moss Removal , Moss Treatment, Tile Roof Cleaning, Concrete Tile Roof Cleaning, Skylights, Skylight Cleaning, Zinc Treatment,